Belle Sculpt
Non-Surgical Fat Reduction
Less expensive but as effective as Coolsculpting
Call us at 843.821.8787 for a Free, No Pressure Consultation
The only body sculpting with a
MONEY BACK GUARANTEE on the abdomen!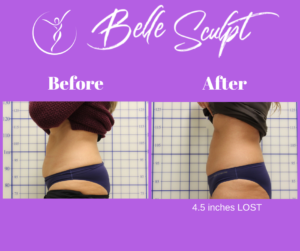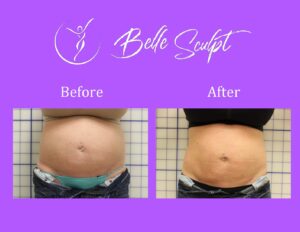 What is Belle Sculpt Body Sculpting?
Belle Sculpt works by sending two powerful radio energy waves deep into the fat layer. This energy causes the fat cell to release all the stored fat inside. This process, called Pyroptosis, will cause the fat cell to die.
Over the next few days, the fat will be flushed from the body naturally.
The Belle Sculpt system stimulates collagen to form, and to make the existing collagen contract. The result is a thinner, new you with healthier and toned skin.
Belle Sculpt is also the only true body sculpting machine that can permanently destroy fat and tighten
the skin for a more youthful appearance. Ask us about our 1 inch GUARANTEE!
Belle Sculpt Testimonials
* "So far, I had one treatment to my abdomen and I lost 2 inches total in a matter of days!" ~ Jennifer H.
* "I was very pleased with my experience here at Healthworks and the Belle Sculpt Body Sculpting. I had my abdomen, thighs, and arms done and saw a significant drop in inches in all areas. Staff was very detailed with measurements and the approach with using the Belle Sculpt to make sure you get the best possible results. I would definitely do it again and recommend to others!" ~ Tammy N.
* "I have lost 1-1/2 inches from my waist and still have one more session to go!" ~ Dayle C.
Belle Sculpt vs Coolsculpting
Minimal discomfort, if any
Down time is approximately 12 hours

60-90 days to see results

Can cause fibrous scarring

Can cause "shark bite" results
The Benefits of Belle Sculpt
Best alternative to liposuction

Able to treat larger areas than other body sculpting machines/treatments

Destruction of fat cells: Pyroptosis creates a pore in the cell wall causing the cell contents to leak out until the cell dies

Skin temperature feed-back ensures uniform treatment

Penetrates the skin and fat layer 8x deeper than current bi-polar technology
Treatments typically take 30 minutes or less, depending on the treatment area

Reduces fat and cellulite

Proven to reduce circumference

Can be performed over most areas of the body

Non-invasive with minimal discomfort

Can also be used for skin tightening on the face
Target Areas for Fat & Cellulite Reduction
Belle Sculpt Treatment Protocol
Series of 3 treatments, 1 per week

Maintenance – not necessarily required

Permanent Fat Destruction

Cellulite maintenance is 1 treatment every 4-6 months
Schedule your consultation today!
843.821.8787